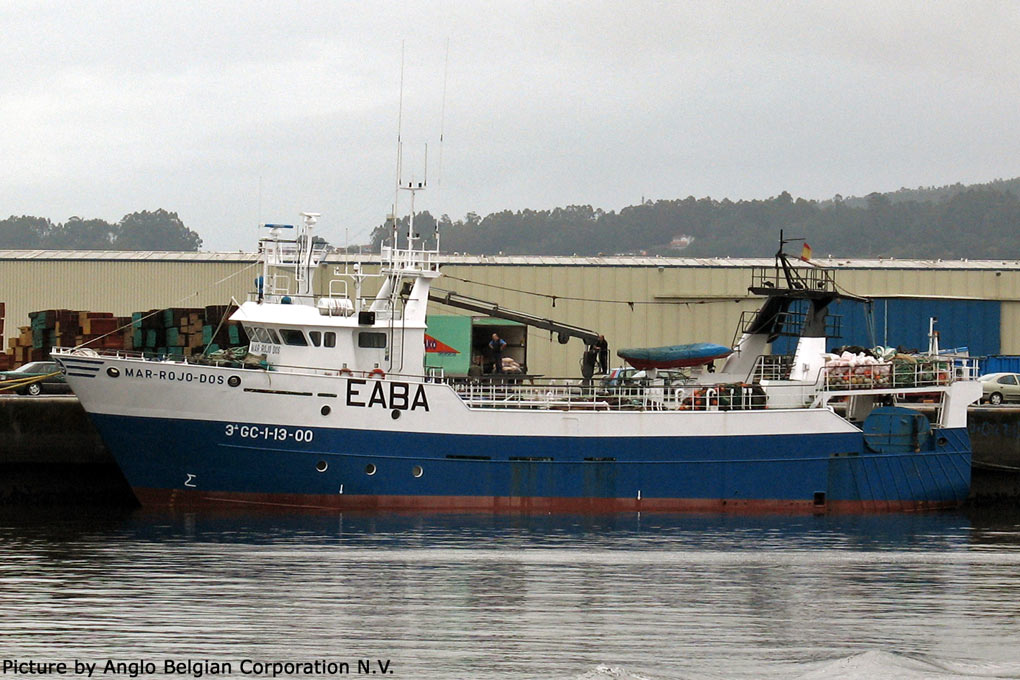 Name

MAR-ROJO-DOS

External marking

3-GC-1-13-00

Type

Fishing ship

Freezing stern trawler - Shrimp trawler

Gear type

Bottom otter trawls

Bottom pair trawls

IMO-number

9233090

Registration number

ESP000024950

Call sign

EABA

Flag

Spain

Port of registry

Las Palmas De Gran Canaria

GT

446 t

257,5 t registered

Length

38,70 m overall

32,05 m between perpendiculars

Breadth

9,00 m

Draught

4,37 m

Depth

6,10 m to upper deck

3,95 m to main deck

Speed

12,0 knots

Built

2000

Builder

Factoria Naval de Marin
Marin
Spain

Hull material

Steel

Main engine

1x ABC 6(M)DZC-750-135 - 810 kW

Builder: Anglo Belgian Corporation N.V.
Wiedauwkaai 43
9000 Gent
Belgium

Propeller

1x LIPS controllable pitch propeller

Auxiliary power

294,33 kW

Deck equipment

Trawl Winches CARRAL driven by motor of 275 hp

Hold capacity

1x 210 m³

1x 92,7 m³

Total: 302,7 m³

Bunkers

Gas oil: 200 t

Fresh water: 5,75 m³ (2 x Fresh water generators)

Accommodation

For 20 men

Remarks

The following repairs , upgrading and incorporation of equipments and material was made during the year 2008:

The freezing tunnels were made bigger: From 4 tunnels with 40 trays to 2 tunnels of 20 trays plus 2 tunnels with 80 trays.

The stern ramp is made of stainless steel.

A keel of 25 ton was fitted for stability reasons when new shrimp booms were installed.

A shrimp sorting machine was installed (60.000 Euros).

A new installation of Air Condition system was installed in the processing plant.

Additionaly two sets to service in the accommodation.

The vessel was modified for the shrimp fishery: booms , modifications in the processing plant, wash tub etc.

The Main Engine was dismounted and completely overhauled.

The Trawl Winches were also dismounted and overhauled.

The BV Special Survey was made in January 2008.

The vessel has fishing gears for both octopus and shrimps.

A new SCANMAR system was installed.

2000 meter of wire of 22 mm diameter was supplied onboard in April 2008.